The fairy. One of nature's most beautiful and exotic creatures, these monster girls can live to over 1,000 years old. Fairies in this world are always born female. It's always been a struggle for these tiny monster girls to find willing partners to breed with. But with the rise of technology, these sexy pixies have created a new dating app – Fairy FINDR. This game is for Windows, Android and MacOS (Not iOS)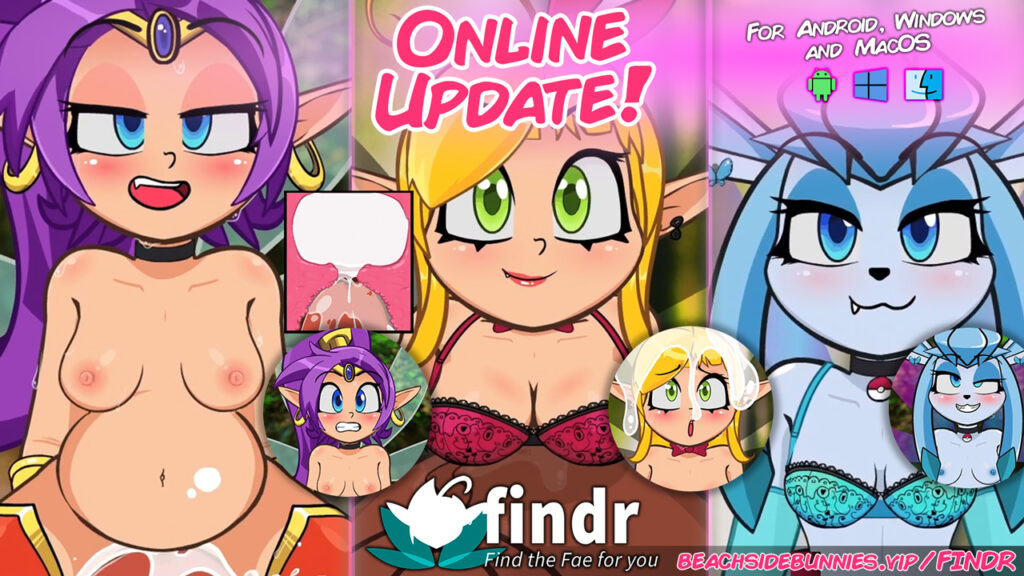 You've always been curious about fairies, and now's your chance to finally meet one! Swipe in this magical app to find the perfect Fae(s) for you. Fairies will start unexperienced, edging you and playing with your dick, but level them up enough and they will become bodyjob professionals willing to let you fill them up entirely. Fairies will do anything to please their partners, including using magic to increase their physical limits.
Level up, play and breed with cute fairies in the magical forest in this first release of Fairy FINDR! Using pixiepoints, you can dress your favorite fairy in any clothing you like in her wardrobe.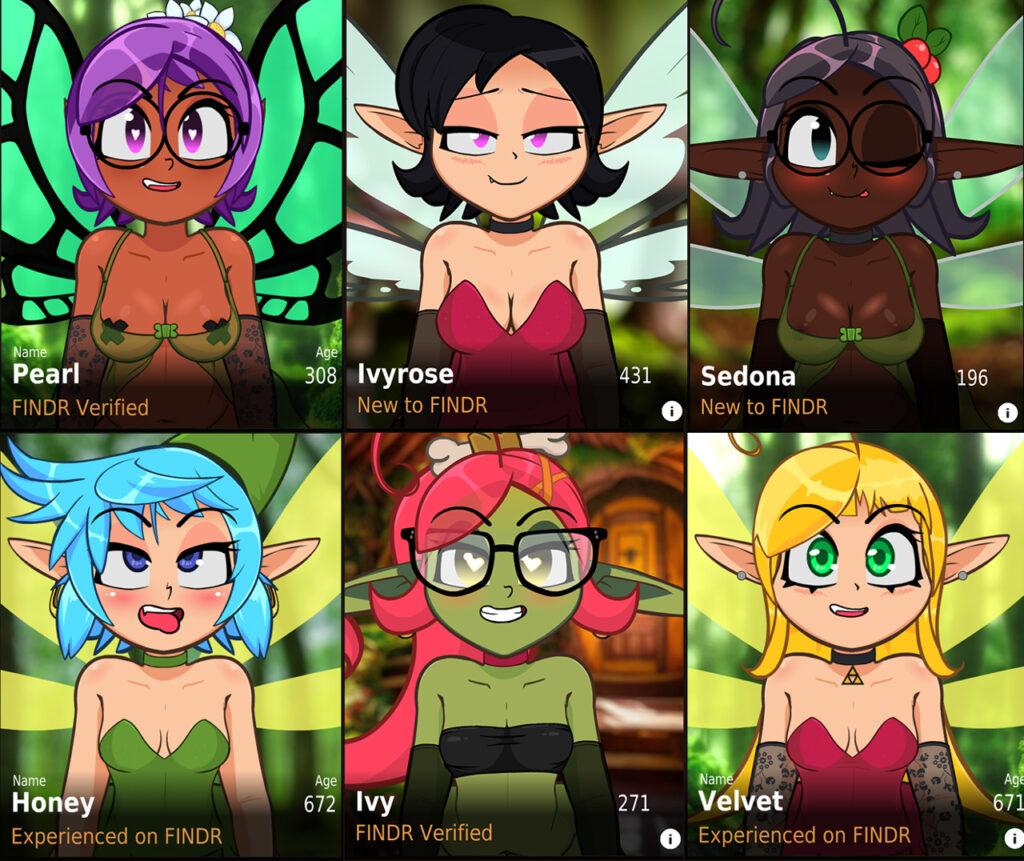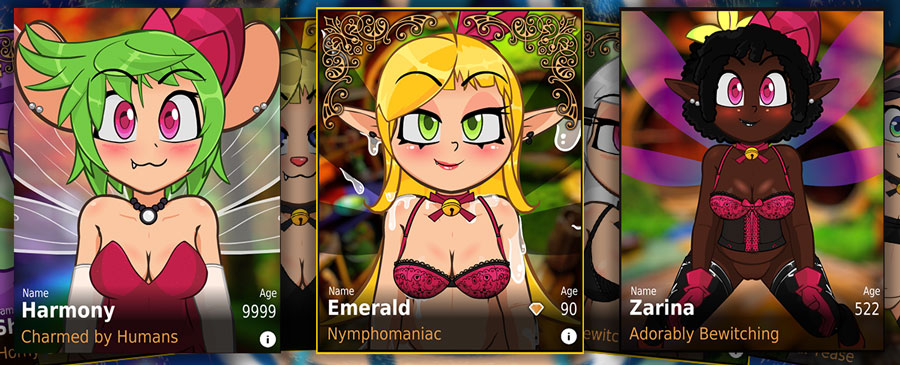 Lookup and share fairies in the new FINDR Directory, with the Online Update!
Fairies come in all colors, from their wings to skin tone. You'll be able to call back your favorite fairies at any time in the phonebook, who will increasingly grow attached to you. I've also heard that other creatures can sometimes join FINDR and pretend to be fairies too, so watch out for those sneaky goblin girls using magic…
Current Features up to Build 120:
More accessories! More Fairies! Get rare fairy numbers and share your fairies online.
New internal views
Dark mode redesign
Anthro fairies toggle. Fairies can now appear as mice, deer/bunnies, or catgirls.
Full scene with the fairies at their smallest size. Fully voice acted with subtitles
Unique dialog and actions as fairies level up
Cum outside with squirting, knob-to-pussy cum inside, and penetration cum inside actions
Fairy generation is quite complete, including dark skin / pale skin fairies, boob sizes, hair styles and style variants, eyes, lipstick, piercings ear types and sizes, and more, making the game feel unique and fun to find your perfect fairy.
Bonus lore unlocks – extra story text unlocked as you play
Simplified online login
Vibration patterns on android, your phone will vibrate to the animations
Earn pixiepoints by playing the game and spend them on the wardrobe, dress your fairy the way you like, or use them to skip ahead levels with the super-like.
Lovense compatibility – all scenes in the game have Lovense patterns that match the action and make you feel like the fairy is right on your dick.
Optional futa toggle fairies with cum animation
Fairies are saved to your phonebook, call back your fairies for unique dialog, visit them often and get unique dialog.
69a – Fixed a bug where wardrobe changes were costing 20 points instead of 2
Future features:
Future features include adding interactions, shorstack mode with growth magic and top-pick celebrity fairies with cloud sharing. To view the current list, check out my Fairy FINDR Roadmap!
With each small update I will add more features and accessories, and with each new big update I will add a new scene such as the shortstack scene, and plans for blowjob scene in the future. Your support on this game will further development, and you'll see more scenes and accessories release in time! Thank you for your interest in my games!
More Games by Beachside Bunnies: